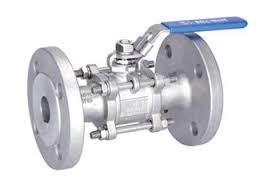 API 6D 3PC Stainless Steel Floating Ball Valve:Flanged End,1/2
Stainless steel flanged ball valve is designed with stainless steel,whoes body with beautiful appearance is shaped with precision casting technology.The position where the ball valve contacts with a medium all use stainless steel resistant to corrosion. American design standards: API 6D API 608 BS 5351 GB design standards: GB/T12237 Structure length: ASME B16.10 GB/T 12221 Flange connection: ASME B16.5 GB/T 9113 Test and inspection: GB/T 13927 API 598 API 6D
Stainless steel flanged ball valve is designed with stainless steel,whoes body with beautiful appearance is shaped with precision casting technology.The position where the ball valve contacts with a medium all use stainless steel resistant to corrosion. Not only is it applied to such general working media as water, solvent, acid and natural gas, but also used to media in such poor working conditions as oxygen, hydrogen peroxide, nitric acid, acetic acid. Stainless steel flanged ball valve is usually used in the medical sanitary installation,food machinery, chemical corrosive equipment and piping system.
[Features]
1.Provide the lowest flow resistance for media to flow with almost no loss, and ease for cleaning the pipeline.
2. No jamming in the process of operation.Be able to be reliably used in corrosive medium and medium with low boiling point.
3.Can be completely sealed and withstand the pressure differential in a larger range of pressure and temperature
4.When in full open and full close, the sealing surfaces of the ball valve and the seat separate from media.The medium passing through at high speed does not cause the sealing surface to be corroded.
5.Offer compact structure and light weight,which is a reasonable valve structure suitable for the low-temperature system.
[Standard]
American design standards: API 6D API 608 BS 5351
GB design standards: GB/T12237
Structure length: ASME B16.10 GB/T 12221
Flange connection: ASME B16.5 GB/T 9113
Test and inspection: GB/T 13927 API 598 API 6D