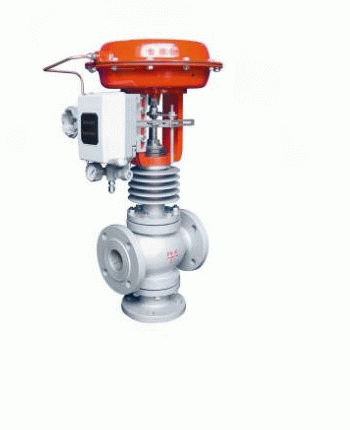 Three-Way Pneumatic Control Valve:Casting Flanged ends,PN10~ PN64
Part materials:
Body & bonnet: HT200 ZG230~450 ZG1Cr18Ni9Ti
Seat: 1Cr18Ni9Ti
Packing: PTFE, flexible graphite
Spring: 60si2Mn
Push rod & valve rod: 2Cr13, 1Cr18Ni9Ti
Lining: 2Cr13
Gasket: rubber asbestos plate, 1Cr18Ni9 asbestos gasket
Three-way pneumatic control valve uses cylindrical thin window shaped valve guiding, which is different from the guide bushing of plunger valve. Equipped with multi-spring actuator makes it have the advantages of simple structure, light weight, small volume, ease of dismounting etc.. Three-way pneumatic control valve is widely used to accurately control gases, liquids and other media.Process parameters such as pressure, flow, temperature and liquid level maintain a set point. Three-way pneumatic control valve is suitable for a occasion that the fluid is divided into two way to outflow through a three-way or two fluid is synthesized into a fluid through a thee-way valve
Product features:
- Action orientation of a fluid on the spool is in the state of open so that the valve can work stably.
- The side of spool also generates a guiding role with the internal surface of valve seat surface in addition to guide bushing in the bonnet.
- Actuator with multi-spring structure reduce by 30% height and 30% weight.
Part materials:
Body & bonnet: HT200 ZG230~450 ZG1Cr18Ni9Ti
Seat: 1Cr18Ni9Ti
Packing: PTFE, flexible graphite
Spring: 60si2Mn
Push rod & valve rod: 2Cr13, 1Cr18Ni9Ti
Lining: 2Cr13
Gasket: rubber asbestos plate, 1Cr18Ni9 asbestos gasket
Connection standards:
- Flange standards:
cast iron flanges:GB4216.5-84
forged steel flanges: GB9113-88, JB/T79.1-94
- Flange sealing face type:
PN10, PN16, PN64:convexity
PN40、PN64:male and female,concave valve body.
- Structure length:GB12221-89