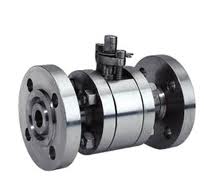 3-Piece Full-port Floating Ball Valve:Flanged End,Mounting Pad
The 3-pc full-port ball valve is mainly used to connect or cut off the medium in the pipeline, and also can be used to regulate and control fluid. There has been a strong shearing force between its ball coreand metal valve seat, which is especially suitable for the media containing fiber,small solid particles,ect.. The 3-pc full-port ball valve can be rotated by 90 degrees,whoes cock body is a sphere, and which has a circular through-hole or passage through its axis. The 3-pc full-port ball valve can be closed tightly just by rotating 90 degrees and a small torque
The 3-pc full-port ball valve is mainly used to connect or cut off the medium in the pipeline, and also can be used to regulate and control fluid. There has been a strong shearing force between its ball coreand metal valve seat, which is especially suitable for the media containing fiber,small solid particles,ect.. The 3-pc full-port ball valve can be rotated by 90 degrees,whoes cock body is a sphere, and which has a circular through-hole or passage through its axis. The 3-pc full-port ball valve can be closed tightly just by rotating 90 degrees and a small torque.
Design standards of American standard 3-pc full-port ball valve :
- Design and manufacturing : ASME B16.34, API6D etc.;
- Structure: ASME B16.10;
- Coupling end size: ASME B16.5, ASME B16.25;
- Inspection and testing: API598;
- Fire protection design: API607;
Parameters of 3-pc full-port ball valve:
- Operating temperature: -46+550 ℃.
- Size: 1/2"-4"
- Pressure rating: 1500Lb(3000psi)
- Flanged end: ANSI B16.5
- Face to face: ANSI B 16.10
- ISO5211 direct mounting pad
- Ball Type: Floating Ball
- Valve Seat: PTFE / RPTFE / PPL,etc.
- Drive modes: manual, worm gear, pneumatic, electric etc..
- Connections: flange, welding, butt welding, socket welding, etc..
- Manufacturing standards: GB GB, JB, HG, API, ANSI, BS, JIS, JPI etc..